US 100 & US 110
The worldwide Thin Client market is growing in popularity due to the acceleration of global business, a focus on robust security, a desire to reduce TCO, and an improved approach to mobility. However, current Thin Client designs lack required functionality and performance, and are unable to use IP Softphone, which limits their practicality in fast-paced work environments.

NEC's Next Generation Thin Client System, Virtual PC Center is an innovative hardware and software product for virtual workstations, unifying computing and IP technology. By converging voice and data, the Virtual PC Center thin client architecture makes administration of workstations easier whilst reducing costs and ensuring data protection. This also enables the real mobility of users who can access their working environment from wherever they are, whether they are at their place of work or working remotely. The introduction of a new generation thin client offers multimedia capabilities equal to those of a PC.

Virtual PC Center provides a strategic and focused response to the current challenges and trends in the IT arena such as budgetary constraints and ever increasing security demands. It achieves this whilst also taking advantage of new technological opportunities such as VoIP (Voice over IP).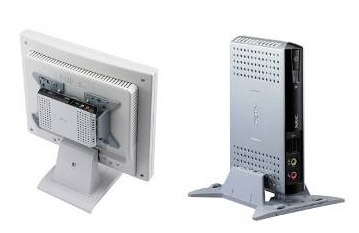 US 100 with bracket and US 110 with pedestal kit
For example, this solution is ideal for call centers in any industry sector, as well as workstations dedicated to admin functions in large organizations, such as accountancy, sales administration and human resources. Virtual PC Center is also oriented towards the education and training sectors, health, and suppliers of outsourcing and facilities management services.

VPCC has several distinct advantages:
Cost Reduction

By monitoring all virtual PCs in a server, and centrally managing security measure unitarily without exception.
Easy deployment of software and security patches to all virtual PCs collectively.
System setting changes with personnel changes and an organization change collectively.
Significant energy cost savings. Virtual PC Center can save as much as 57% of electric power, compared to traditional PC.

Easy installation

All-In-One Server Set with maximum of 20 Virtual PC environment clients.
Shorten installation process which means significant reduction on initial installation cost. Combined with the reduction of product price, a total of 40% savings of initial cost can be achieved.
Easy add-on with 2set or 4set add-on options to choose from.
Management server set with middleware needed for central management also in hand.

Fast Multimedia Processing
---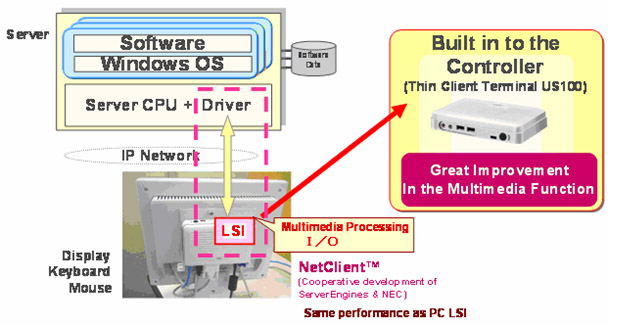 Multimedia processing function is integrated in the thin client terminal. Therefore, VOIP will not be affected by virtual PC loading. Peer-to-Peer voice/video transmission is feasible.
---