Nowadays, our societies are suffering with many problems in the transportation systems such as pollutions, traffic jams, vehicle accidents and many more. There are several subjects that related to these problems: people, vehicles, and roads. These three things are very important and crucial to be taken care in order to create a safety and effective transportation system. The system can be easily created by the support of internet to access data for improved safety, reduced traffic congestion, and better care for the environment.

Since the 90's, NEC has participated actively to support the government by being one of the founders and key promoters of Internet ITS Consortium, which supports new business approaches in the field of telematics that use common platforms to distribute vehicle-related information. NEC integrates people, vehicles, and roads under a concept through internet that called "Ubiquitous ITS".

"Ubiquitous ITS" is a concept that brings together information related to people, vehicles, and roads via a single network offering access to anyone at any time.

NEC's Ubiquitous ITS works within four categories:
Road traffic service solutions
Pedestrian support service solutions
Driver support service solutions
Vehicle related business solutions
Through these variety solutions, NEC is dedicated to satisfying customer needs.

The architecture of Internet ITS
Various applications
Common service platform: the probe information system, individual vehicle management, location management, member management, individual authentication, etc.
Internet technologies
Network platform: Mobile IP, network authentication, etc.
Communications media: Mobile phones, DSRC, wireless LAN, PHS, satellites, etc.
On-board equipment/terminals
---
Road traffic service solutions
Electronic Toll Collection (ETC) System
Road management
Mobile Operation Control System (MOCS)
Road Traffic Planning Solutions
---
Pedestrian support service solutions
Roadside Information Terminal
An audiovisual guidance system
InfoSign
---
Driver support service solutions
Traffic Information
Whether Information
Road maps
Content provision solutions: TPOCAST (Time-Place-Ocassion-foreCAST)
Eco-driving solutions
---
NEC Indonesia supports the ITS system by providing the common service platform that is DSRC Probe (Dedicated Short Range Communication Probe).
DSRC Probe (Dedicated Short Range Communication Probe)
DSRC Probe will provide the transportation information system in easily, effective, and flexible mechanism with lower cost compared with Global Possitioning System (GPS) and Road Side Unit (RSU) system:
DSRC will increase the distribution efficiency that also will increase road user and revenue.
DSRC will provide information to the driver which will automatically decrease number of accidents in highway road.
DSRC will manage the traffic that will control the vehicle volume and support traffic management system.
---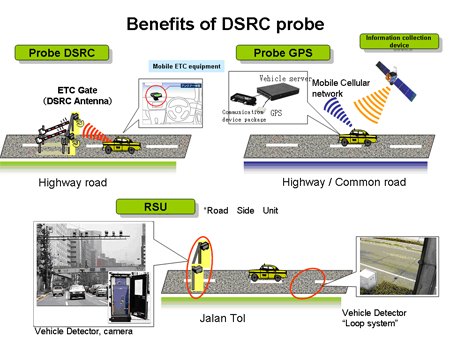 Intelligent Transport System