NEC's 3G

NEC solutions are optimized to meet your individual needs in the 3G realm and beyond. Our solutions are distinguished by the fact that we not only provide cutting-edge technologies but also offer end-to-end support from network design to operation and maintenance.

NEC's comprehensive products & solutions portfolio provides high quality service and a smooth migration path to future network evolution.



Products

1. Node B Family

The Node B family uses architecture that separates digital baseband and analogue RF processing into two separate sub-frames connected via a CPRI interface. See overview section for details.

Node B Benefits :
Easier Maintenance
OPEX reduction
Excellent adaptability to various environments (NB-881)
---
Macro Node B (NB-880 / NB-881)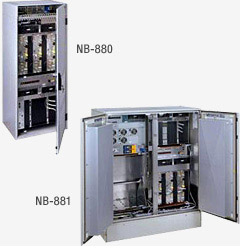 The Macro Node B NB-880 and its outdoor version NB-881 both feature compact design, flexible expansion options and modular shelf configurations. Users can configure Node B to meet market requirements ranging from low to high capacity with minimum impact on installation space.

Key features :
Radio cell configuration: up to 3/3/3 (4/4/4 candidate)
High-power RF amplifiers capable of 40W RF
Baseband capacity of up to 1,440 resources
---
Compact Node B (NB-860 / NB-861)
The Macro Node B NB-860 and its outdoor version NB-861 provides macro capacity in a micro-sized housing. The NB-860/NB-861 uses the same baseband and RF modules as the NB-880/NB-881. This simplifies distribution of spare parts and training of maintenance staff when both Node B variants are deployed in the same network.

Key features :
Radio cell configuration: up to 2/2/2
High-power RF amplifiers capable of 40W RF
Baseband capacity: up to 576/720 resources (NB-860/NB-861)
---
2. Femtocell Node B

The Femtocell Node B is designed to provide exclusive UMTS coverage for home and SME users. NEC Femtocell Node B connects to the operator's mobile core network over the secure broadband connection using fully open-standard interface. And it provides end users with the full range of UMTS services and capabilities as equivalent as the macro Node B.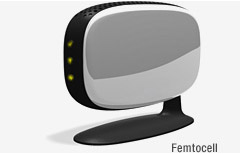 Simplifies end-user experience; a single device meets all user needs
Development of competitively priced, scalable, high-quality voice and data cellular services
Enables cost-effective improvements in indoor cellular coverage
Reduces operating costs by leveraging mobile network assets
Encourages end-users to adopt new services by allowing them to use existing handsets instead of paying for new terminals
---
Low costs for voice and data calls
Higher quality of service
Simplified billing - one statement for broadband, mobile (and possibly other bundled) services
Unified communication from a single easy-to-use device, which offers excellent performance indoors or outdoors
Access to attractive new services, including direct access to Internet, access to other devices on 'home' network, and more
---
Fully open-standard interface with the network
Connectivity to operator core network using Core Level (IMS) and Radio Level (Iu) approaches via same access point
Localized 3G coverage and capacity for homes and SMEs
Works with legacy handsets, avoiding charges for new equipment
Allows access to a user-specified and configurable subscriber list
Supports up to four simultaneous active calls
Zero-touch, plug-and-play CPE
Co-exists with the macro network
HSDPA compatible
Excellent performance over residential-grade broadband
---
3. Radio Server Family

The Radio Server family provides full Node B functionality in conjunction with Remote Radio Heads (RRHs).

Benefits :
OPEX reduction
Smooth migration from GSM (RSSU-380)
Excellent adaptability to various environments (RS-381)
Improves coverage over larger area and gives high quality for indoor environment (RF Server)
---
Macro Radio Server (RS-880)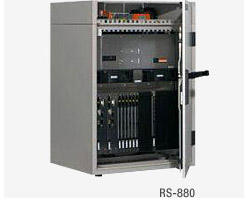 The Macro Radio Server RS-880 combines compactness and flexible expansion with modular shelf configuration. It can be configured to meet market requirements ranging from low to high capacity with minimum impact on installation space.

Key features :
Radio cell configuration: up to 2/2/2 or 1/1/1/1/1/1
Baseband capacity: up to 1,440 resources
High power with RRHs: up to 40W per RRH-mh; up to 0.5W per RRH-pi
---
Micro Radio Server (RS-381)
Micro Radio Server (RS-381)
The Micro Radio Server RS-381 provides medium-capacity, Node B functionality in conjunction with Remote Radio Heads (RRHs). The RS-381 is an ideal solution for small-to-medium capacity applications and zero-footprint locations. It can be mounted on a wall or pole and uses an AC or DC power supply.
AC-variant feeds one RRH-m (optional backup battery available)
DC-variant can run off PSR (Power Supply Remote). The PSR performs AC/DC conversion and enables battery backup for up to one hour.
---
Radio configuration: up to 2/2/2 or 1/1/1/1/1/1
Baseband capacity: up to 288 resources
High power with RRHs: up to 40W per RRH-mh; up to 0.5W per RRH-pi
---
19-inch Micro Radio Server Slider Unit (RSSU-380)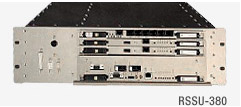 The Radio Server Slider Unit is designed for low-cost, zero-footprint applications where operators want to upgrade their existing GSM equipment to UMTS. The RSSU-380 module is 19 " x 3HU in height and mounts easily into an existing GSM service rack.

Key features :
Radio cell configuration: up to 2/2/2 or 1/1/1/1/1/1
Baseband capacity: up to 288 resources
High power with RRHs: up to 40W per RRH-mh; up to 0.5W per RRH-pi
Low weight (< 15 kg)
---
RF Server (Radio Frequency Server)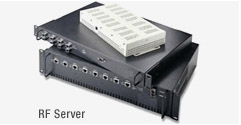 RF Server is an in-building Distributed Antenna System (DAS) that is designed for larger area or for dense and high-traffic environments. RF Server, which is integrated to Node-B, provides high quality and wide coverage in buildings.

Key features :
Frequency range : D/L 2110MHz - 2170MHz, U/L 1920MHz - 1980MHz
Output power : D/L +15dBm
Gain range : D/L 0~15dB, U/L 0~15dB (1dB step)
Size and Weight :
- M-Hub W 440 mm x D 305 mm x H 44.5 mm , < 3kg
- E-Hub W 440 mm x D 305 mm x H 89.0 mm , < 5kg
- RAU W 305 mm x D 158 mm x H 44.5 mm , < 1kg
---
4. RRH Family

Remote Radio Head (RRH) technology is based on the Common Public Radio Interface (CPRI), which uses high-frequency electromagnetic fields for mobile communication. Scientific studies by the World Health Organization (WHO) have defined safe RRH operating thresholds that pose no risk to residents and users. Our RRH devices are designed to ensure compliance with these thresholds and eliminate risk to the public during outdoor or indoor operation.

RRH configurations for long or short links :
For links up to a maximum of 500m :
-multi-mode SFP and multi-mode fiber, suitable for 850nm wavelength range
For links from 10km to 40km :
-single-mode SFP and single-mode fiber, suitable for 1300nm wavelength range
---
Permits mounting of outdoor Node B and Radio Server in various configurations-- on poles or walls, below or behind antennas, or on roof-tops
RRH solution enables flexible cell configuration
Provides superior indoor coverage (RRH-pi)
Light and compact for easy portability
---
Macro Remote Radio Head (RRH-m / RRH-mh)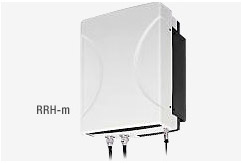 The Macro Remote Radio Head (RRH-m) and its high power variant (RRH-mh) are outdoor units installed outside the Node B/Radio Server. They offer a highly integrated, future-proof solution for RF functionality. The RRH-mh provides higher output power than the RRH-m but also requires more DC power input.

The RRH-m and RRH-mh are placed between Node B/Radio Servers and antennas. They provide two CPRI-compliant optical interfaces for connection to a DRIC24_24OE, which supports an optical interface in addition to the electrical one. The RRH-m and RRH-mh are controlled and monitored by the CC via the CPRI interface.

Key features :
Medium to high capacity
RET functionality is supported
up to 12.5W per RRH-m, up to 40W per RRH-mh
Wall or Pole or Roof top mounting
Optical integrated antennas
Volume : < 21.3 liter
Weight : < 19 kg
---
Pico Remote Radio Head (RRH-pi)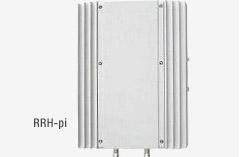 The RRH-pi is an indoor unit, which functions like a CAT with reduced power and DUAMCO. Using external or integrated antennas, the RRH-pi provides two optical CPRI interfaces for connection to the DRIC24_24OE or other RRH-pi.

Key features :
up to 0.5W per RRH-pi
Wall or pole mounting (Indoor usage)
Optional integrated antennas
Volume : 3 liter
Weight : 3 kg
---
Up to 6 RRH-pi and two optical connectors are supported by the RRH-pi
Multi-mode 850nm optical transceivers (500m separation)
Single-mode 1300nm optical transceiver (10km separation)
---
5. Radio Network Control (RNC)

The Radio Network Controller (RNC) handles critical functions of an UTRAN network, including:
Mobility management
Call processing
Radio resource management
Link maintenance
Hand-over control
Traffic concentration
Support of mobile services
---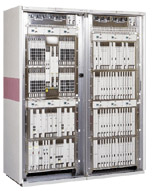 The RNC (RN-750) uses a high-capacity ATM switching platform, which supports up to 512 Node Bs at a single RNC. Featuring modular and highly scalable architecture, the RN-750 is designed for a smart, cost-effective migration from low-density to highly loaded networks.

The modular architecture also allows flexible positioning in the network and optimized capacity dimensioning. It enables network operators to deploy a variety of applications and services, including:
Standardized configurations to cope with diverse network deployment scenarios
Real-time (e.g. voice and video-conferencing) and non-real-time (e.g. Internet surfing) services
Asymmetrical and symmetrical applications with typical data rates per user of:
---
- up to 384 kbit/s without HSDPA

- 1 Mbit/s with HSDPA ( 14.4 Mbit/s DL peak rate)
"Always on" scenarios
Four QoS (Quality of Service) classes: conversational, interactive, streaming and background
Different bearers for circuit-switched and packet-oriented traffic
---
Advanced service differentiation mechanisms ensure that each service gets the required QoS.
The RN-750 achieves efficient radio-resource management through flexible assignment of the following items:
Admission control
Congestion control
Channel-type switching
Radio-bearer translation
Measurement control
Handover control
Load control
---
Extremely stable performance based on field-proven design
Small footprint
Simple configuration using dedicated RNC configurations (model units) for all customer needs regarding connectivity, throughput and interfaces
High flexibility in terms of processing power and number/type of interfaces
Modularity based on a distributed architecture using a scalable ATM switching node and a standardized network management interface
High availability and reliability due to redundant RNC architecture: dedicated redundancy concept for all HW modules (optional N+1 or 1+1)
Support of high Node B connectivity and optimized voice/data throughput for low-traffic demands ( coverage-driven scenario)
Outstanding scalability in Node B connectivity and voice/data throughput
---
LTE (Long Term Evolution)

Long Term Evolution (LTE) is a new standard that will radically alter the way we access and use mobile networks. Increasing speed and expanding bandwidth, LTE will create new services for customers and new opportunity for service providers. A global leader in telecommunications, NEC is playing a pivotal role in the evolution of mobile networks.



LTE Advantages

Network based on Long Term Evolution (LTE) standard will deliver high speed multimedia services at more than 100Mbps. Higher and greater bandwidth will enable the host of exciting new services, including wireless broadband communications and mobile broadcast TV. The power of the desktop computer and the home entertainment center will be packet into a palm-sized mobile device. These new services have great customer appeal that will create new opportunities and revenue streams for carriers and providers.



LTE Network Will Rival Fiber Optics in Speed and Performance

Mobile networks based on LTE technology will have the speed and bandwidth to rival today's consumer fiber optics networks. The broadband, packet switch and flattened networks of the LTE era will provide both consumers and business users with on-the-go access to all the services delivered by today's wired internet and telephony systems. From voice-over-IP to video and gaming, mobile users will have it all in the LTE era.



Timely Adoption of LTE Puts You a Step Ahead of the Pack

By starting your migration plan to LTE now, you move ahead of competitors. You position yourself to deliver multimedia rich applications with powerful consumer appeal and capture market-share while others are playing catch-up. Partnership with NEC gives you the support of a global leader in telecommunications. The benefits include:
Reduced cost for migration and operation (CAPEX/OPEX)
Superior cost efficiency achieved through flexible use of existing and new frequency bands
Optimal architecture and protocols
Seamless mobility and outstanding quality of service during handovers
---
Worldwide Demand

Individual customers and corporations alike are demanding greater variety, accessibility and convenience in mobile communications. This worldwide surge of demand is driving the rapid evolution of mobile network technology. Coming years will witness a ceaseless progress to higher standards, from WCDMA/HSPA via HSPA+, or direct to LTE.



The Evolution of Mobile Network Technology

The evolution of mobile network technology is driven by the exploding worldwide demand for ubiquitous access to richer multimedia services. Market factors are mandating an industry-wide evolution from WCDMA/HSPA to HSPA+ or direct to LTE in the near future.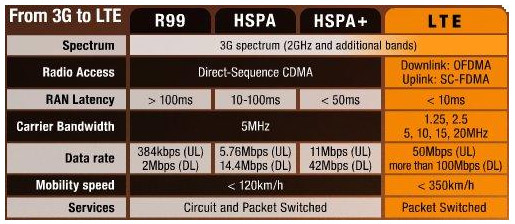 High-speed Packet Access (HSPA) has already had a successful roll-out as the new software for 3G networks. An even more capable version (HSPA+) will soon arrive, bringing better modulation and multiple antennas (MIMO). LTE is the step beyond HSPA+.

NEC offers two primary solutions for LTE mobile networks, 3G LTE and 3G SAE (System Architecture Evolution), which together comprise total LTE solution. Both technologies improve latency, capacity and throughput.

3G SAE is an optimum solution for customers seeking cost-efficient development and operation of mass-market IP services. The SAE solution is also designed for easier integration with non-3GPP access technologies.



Standardization of Long Term Evolution

A group of industry leaders (called the 3GPP) met in 2004 to develop the LTE standard. They committed to completing the basic LTE study by June 2006 and the standard specification by June 2007. NEC, with approximately 40 members, including two vice chairmen, involved in the 3GPP, has actively contributed to the standardization process.



Migration Support

Carriers and service providers who seize today's opportunities will be perfectly positioned to dominate the expanded mobile markets of tomorrow. NEC offers a full suite of technologies, services and strategies for LTE migration. We help you limit up-front investment and enhance the profitability of your existing network while implementing an individualized strategy for success in the LTE environment. Whether your best move is from 3G to HSPA+, or from 2G/3G direct to LTE, or into mobile WiMAX, partnership with NEC will give you unstoppable momentum.



Cost Effective Migration Starts with NEC

NEC will help you develop and execute an optional migration strategy. We currently provide 3G systems to customers across the globe. The know-how gained in our global 3G projects enables us to also lead the way in LTE systems. With depth of experience and broad capabilities, we give you the flexibility to plot a migration path ideally suited to your market and corporate capabilities.

Whether you're moving from 3G to HSPA+, or from 3G straight into LTE, or into mobile WiMAX, we'll make sure that your existing assets are fully leveraged in future network technology.

NEC is now working to develop compact LTE systems, the size of a pizza-box that can be installed in 19" rack. The more compact LTE systems are, the easier it is to migrate from existing systems. Timely adaptation of LTE is proactive choice that leads to bottom-line benefits in capital expenditures and operating expenses (CAPEX and OPEX). By moving straight into LTE, carriers avoid an unnecessary investment in transitional HSPA+ technology. They also simplify network architecture; lower operating costs and achieves differentiation from competitors.

When new mobile standards are developed to take the industry beyond the LTE era, NEC will also play an active and positive role. Our involvement in everything from mobile phone terminals to core networks makes it possible for us to offer customers end-to-end solutions. We are committed to working with customers and technology leaders to introduce innovative standards that continually expand the horizons for mobile communications.