As network customers become more supplicated, diverse and demanding, carriers face daunting challenge and expansive opportunities. NGN deployment is the solution for carriers who want to provide new services, attract new customers, and enhance network reliability. Around the world, there are very few NGN suppliers capable of providing carriers with a "total, best-fit" solution. NEC stands out in that elite group.

NEC offers a comprehensive portfolio of NGN products, systems and services. We also support you with strategic perspectives on the development of new business opportunities. We're partner that carriers can count on for making the NEXT move and achieving long-term success in the NGN era.
IMS Service Platform for Creating Value Added Services
The NGN is comprised of security/QoS management functions and service delivery function centered on the iMS platform. These together form the service platform for the NGN and are positioned as the core function of NGN services.

In the case of IMS products, we started commercialization very early on and improved the reliability, availability and scalability of the products by utilizing the past achievements of SIP servers for fixed networks. Pursuing compliance with standard specifications such as 3GPP/3GPP2, we verified interconnections through trials with multiple carriers and eventually succeeded in commercialization them as IMS platform infrastructures.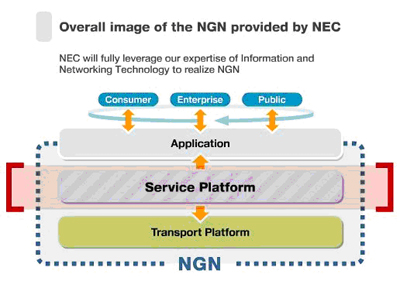 Furthermore, we are developing and commercializing next-generation SIP servers as IMS platform products cored on next-generation networks. These products feature the following.
Implementation of highly reliable Carrier Grade Extension
Interface and Hardware Compatibility with Standardization such as the NGN standard of ITU-T/TISPAN as well as with the IMS/MMD (Multi-Media Domain) standards of 3GPP/3GPP2.
Fixed Mobile Convergence (FMC) compatibility enables service enhancement based on a close convergence of fixed and mobile networks.
---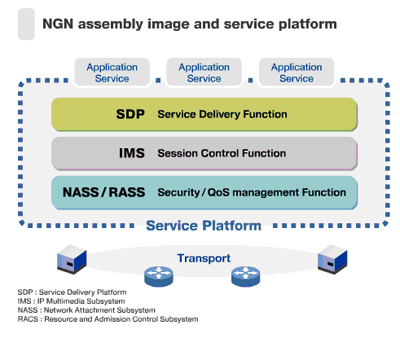 In the future, we will continue to contribute to the creation of new communication modes for users and expansion of business for communication carriers by providing optimum NGN environments centered on next generation SIP servers, as well as provide service solutions that are available on the NGN

For communication carriers and service providers, finding a way in which to create, develop and introduce outstanding and innovative services efficiently and quickly to the NGN has become an important topic. It is the SDP that serves as the response to these needs for the development and delivery of new services, which is why it is attracting attention as a foundation for achieving various functions ranging from the development of services to their introduction, maintenance/administration, and accounting and user management.

Under these circumstances, NEC regards an SDP that pays attention to SIP adopted as a core technology of the NGN as the SIP-SDP, and is currently commercializing practical SIP application servers using it. The SIP-SDP has the following features.

Quick Service Development/Introduction
User friendly programming APIs and communication APIs such as Java, .NET, XML, HTTP or SOAP are used as open APIs to further increase the development speed of new services.
Simple Programming
Complicated SIP referred to as control procedures are hidden so that SIP interface verification and communication testing, which have up until now been necessary each time a service has been developed, are no longer required.
Flexible System Configuration
Application servers that provide and control services individually are offered at a level higher than that of commonly used SIP application servers (Call Control, Presence, Media Control, etc.). This simplifies the addition of services and enables configuration of the system according to the type and scale of service.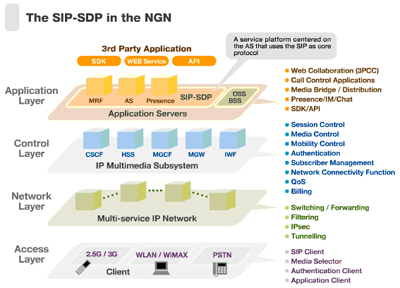 In the future, we will construct various NGN services on these service platforms and position them among our core business operations.