NEC's Mobile WiMAX

NEC's mobile WiMAX solutions open an exciting world of broadband wireless connectivity and business opportunities. It provides broadband wireless access with field proven reliability and full IEEE.802.16e compatibility.

Portfolio

NEC offers a comprehensive and integrated portfolio of Mobile WiMAX products and services, all fully compliant with the Wave 2 system profiles: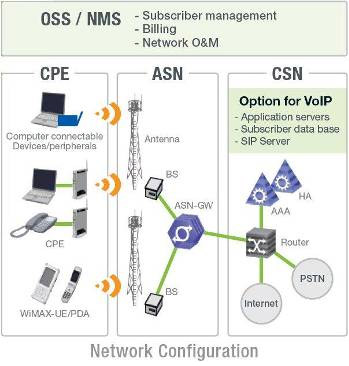 1. Mobile Station / Subscriber Station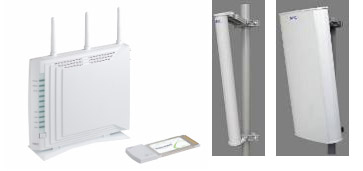 The Mobile Station (MS) / Subscriber Station (SS) works with the Base Station to provide wireless access functions and support mobility. The MS/SS enables connection to a variety of servers through an Access Service Network. We offer three types of terminals:

Indoor CPE for Residential Users

CPE is set up in the user's home to provide WiMAX services.

Outdoor CPE for Enterprise Users

Outdoor CPEs are an excellent solution for enterprise users. They are professionally installed and connected to an external antenna to ensure a high-performance wireless environment.

PCMCIA

By inserting a PCMCIA card into laptop, user can access WiMAX services anywhere.



2. Access Service Network

The Access Service Network (ASN) determines the network functions necessary for wireless access. The ASN consists of one or more Base Station (BS) and Access Service Network Gateway (ASN-GW).

Base Station

The Base Station (BS) is logical entity that handles the MAC and PHY interface as defined by the IEEE802.16 standard. One frequency is allocated to each sector. The BS is comprised of an IDU, ODU and antenna.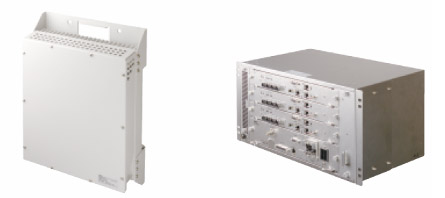 ASN Gateway

An ASN Gateway is a logical entity that performs control-plane functions. Layer 2 connectivity with MS/SS, transfer AAA messages to WiMAX subscribers' Home Network Service Providers.

Our ASN Gateway features exceptional scalability, carrier grade reliability, comfortable user interface, and an open interface for R6. It is deal for MVNO, roaming and wholesale business applications.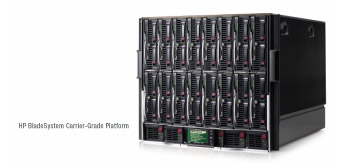 3. Connectivity Service Network

The Connectivity Service Network (CSN) is a set of functions offering IP connectivity to WiMAX subscribers. The CSN incorporates the three network elements describe below.

AAA

AAA offers Authentication, Authorization and Accounting services for WiMAX subscribers.

Home Agent (HA)

When the MS moves to network under a different ASN Gateway, the Home Agent transfers an IP packet to the MS and to the Foreign Agent (FA) within the destination ASN Gateway. This makes it possible to support MS mobility with the same IP address. The HA also operates as a Radius Client and notifies the AAA of accounting-related information.

IMS

IMS services are based on the Session Initiation Protocol (SIP) that has been developed within the IETF. SIP is firmly grounded in the culture of the internet and the experiences of developing protocols such as HTTP and SMTP. SIP services are independent of the access media. Access independence means that IMS services can be accessed over existing an UTRAN, IP-RAN or W-LAN.



Building Scenario

NEC's Mobile WiMAX offers a flexible response to the diverse needs of network operators in different markets and locations.

For Network Operators

For Network Operator such as telecom carriers and internet service providers, NEC's Mobile WiMAX is an ideal backhaul technology. Using WiMAX infrastructure to support Wi-Fi hot spot backhaul is a cost effective way to enhance coverage in metropolitan areas.

For Enterprise Owners

For Small and Medium Enterprise users, NEC's Mobile WiMAX is an excellent alternative to leased lines. Carriers generate income by providing VPN services and global IP address for internet access. Mobile WiMAX provides flexible network configuration and secure transport management.

For Fixed Operators

For areas lacking wired broadband access such as ADSL, NEC's Mobile WiMAX provides a wireless solution that creates dual revenue streams. Hot spot providers can charge for usage, and telecom carriers gain steady income from the hotspot providers for usage of the core network or BSs. The benefits of NEC's WiMAX include minimum investment, VoIP capability and reuse of existing assets.

For Mobile Operators

Mobile operators who are considering the expansion of 3G mobile network expansion or who wish to add value ti their existing 3G networks have much to gain from Mobile WiMAX. It offers fast, seamless migration to the new, revenue-enhancing services that today's users demand. Based on IEEE 802.16e, Mobile WiMAX incorporates NEC's extensive experience and know-how in site-design optimization.






LTE (Long Term Evolution)

Long Term Evolution (LTE) is a new standard that will radically alter the way we access and use mobile networks. Increasing speed and expanding bandwidth, LTE will create new services for customers and new opportunity for service providers. A global leader in telecommunications, NEC is playing a pivotal role in the evolution of mobile networks.

LTE Advantages

Network based on Long Term Evolution (LTE) standard will deliver high speed multimedia services at more than 100Mbps. Higher and greater bandwidth will enable the host of exciting new services, including wireless broadband communications and mobile broadcast TV. The power of the desktop computer and the home entertainment center will be packet into a palm-sized mobile device. These new services have great customer appeal that will create new opportunities and revenue streams for carriers and providers.

LTE Network Will Rival Fiber Optics in Speed and Performance

Mobile networks based on LTE technology will have the speed and bandwidth to rival today's consumer fiber optics networks. The broadband, packet switch and flattened networks of the LTE era will provide both consumers and business users with on-the-go access to all the services delivered by today's wired internet and telephony systems. From voice-over-IP to video and gaming, mobile users will have it all in the LTE era.

Timely Adoption of LTE Puts You a Step Ahead of the Pack

By starting your migration plan to LTE now, you move ahead of competitors. You position yourself to deliver multimedia rich applications with powerful consumer appeal and capture market-share while others are playing catch-up. Partnership with NEC gives you the support of a global leader in telecommunications. The benefits include:
Reduced cost for migration and operation (CAPEX/OPEX)
Superior cost efficiency achieved through flexible use of existing and new frequency bands
Optimal architecture and protocols
Seamless mobility and outstanding quality of service during handovers
---
Worldwide Demand

Individual customers and corporations alike are demanding greater variety, accessibility and convenience in mobile communications. This worldwide surge of demand is driving the rapid evolution of mobile network technology. Coming years will witness a ceaseless progress to higher standards, from WCDMA/HSPA via HSPA+, or direct to LTE.

The Evolution of Mobile Network Technology

The evolution of mobile network technology is driven by the exploding worldwide demand for ubiquitous access to richer multimedia services. Market factors are mandating an industry-wide evolution from WCDMA/HSPA to HSPA+ or direct to LTE in the near future.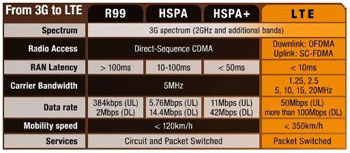 High-speed Packet Access (HSPA) has already had a successful roll-out as the new software for 3G networks. An even more capable version (HSPA+) will soon arrive, bringing better modulation and multiple antennas (MIMO). LTE is the step beyond HSPA+.

offers two primary solutions for LTE mobile networks, 3G LTE and 3G SAE (System Architecture Evolution), which together comprise total LTE solution. Both technologies improve latency, capacity and throughput.

3G SAE is an optimum solution for customers seeking cost-efficient development and operation of mass-market IP services. The SAE solution is also designed for easier integration with non-3GPP access technologies.

Standardization of Long Term Evolution

A group of industry leaders (called the 3GPP) met in 2004 to develop the LTE standard. They committed to completing the basic LTE study by June 2006 and the standard specification by June 2007. NEC, with approximately 40 members, including two vice chairmen, involved in the 3GPP, has actively contributed to the standardization process.

Migration Support

Carriers and service providers who seize today's opportunities will be perfectly positioned to dominate the expanded mobile markets of tomorrow. NEC offers a full suite of technologies, services and strategies for LTE migration. We help you limit up-front investment and enhance the profitability of your existing network while implementing an individualized strategy for success in the LTE environment. Whether your best move is from 3G to HSPA+, or from 2G/3G direct to LTE, or into mobile WiMAX, partnership with NEC will give you unstoppable momentum.

Cost Effective Migration Starts with NEC

NEC will help you develop and execute an optional migration strategy. We currently provide 3G systems to customers across the globe. The know-how gained in our global 3G projects.