Move on to the NEXT Start with NEC
We're entering the exciting and challenging era o the Next Generation Network (NGN). Integrating fixed and mobile telephony over ultra-reliable, ultra-wide IP networks, NGN offers services and applications that will transform the way we live and conduct business. Leadership in the NGN domain dam innovation, integration and diverse technologies. NEC has it all. If you're ready to move on to NEXT, start with NEC.
Vision – Build the NEXT on a firm foundation
Success in Next Generation Networking demands a clear vision, a realistic strategy and the multi-dimensional ability to implement it. NEC brings all that to the table.

NEC envisions NGN as a seamless, ubiquitous whole. We see an expanding universe of communication, information and entertainment services based on three interdependent elements:
Application
NGN Transport Platforms
NGN Service Platforms
---
Making NGN deployment a practical and profitable reality demands excellence in all these areas, and the ability to integrate them seamlessly. NEC has the wealth of experience and proven know-how in network optimization, software development and device technologies to build a lasting foundation for success in next generation services.

NGN Transport Platforms
Our NGN transport solution provides an ideal environment for high-speed connection to large bandwidth networks. It ensures security, reliability and ease of use. The NGN transport environment seamlessly links diverse access networks. including optical. 3G mobile and wireless LANs. Optical IP backbone networks and digital broadcasting systems are also included in our solution.

NGN Service Platforms
NON service platforms are the foundation for a broad range of new customer services and revenue streams. Our solutions includes VoIP platforms for voice, data gateway platforms for i-modeTM and other data-related services, media platforms for streaming/distribution/storage of video content, and business platforms for e-commerce. The operation support system constantly monitors performance and ensures overall network efficiency.

Our management system supports carriers by handling essential business operations. The billing system, for example. tabulates customer network use. calculates charges and sends invoices. Such systems traditionally work behind the scenes. From the end-user's perspective, they've been virtually a black box. Business Support Systems will be increasingly important in the NON era because of the demand for consolidated billing, the rapid growth of e-commerce and Fixed Mobile Convergence (FMC), and consumer demand for new services.
Strategy – Embrace your NEXT move
As network customers become more sophisticated. diverse and demanding, carriers face daunting challenges and expansive opportunities. NGN deployment is the solution for carriers who want to provide new services. attract new consumers. and enhance network reliability. Around the world, there are very few NGN suppliers capable of providing carriers with a "total, best-fit" solution. NEC stands out in that elite group.

NEC offers a comprehensive portfolio of NGN products. systems and services. We also support you with strategic perspectives on the development of new business opportunities. We're a partner that carriers can count on for making the NEXT move and achieving long-term success in the NGN era.

NEC can help carriers reduce costs and generate profits by:
Migrating from fixed-line to next-generation telephony services based on IP technology
Providing FMC services such as "One Number. One Phone, One Bill"
Delivering "Triple Play Service" that integrates telephony. Internet and video streaming/distribution
Expanding non-traffic business such as e-commerce and content distribution
Reducing TCO through greater cost-efficiency in infrastructure investment and operational costs
---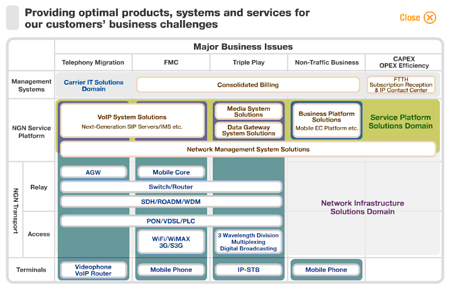 Full Line, Full Layer
NEC expertise ranges across the entire NGN domain. We have "Full Line. Full Layer" approach. Our devices and systems include terminal/customer premise equipment. access network systems and backbone network systems. We also offer a variety of service platforms and business support systems.

Our goal is to provide each carrier with an individual solution that optimizes business opportunities. To build long-term success, we place a high priority on expanding and improving our NGN lineup with an aggressive R&D program that stresses innovative and integrated solutions.

A Key Player on the Global Stage
NEC networks play a prominent role on today's global stage. We'e provided telephone switching equipment. optical telecommunications and microwave telecommunications to over 100 nations. We're prepared and mobilized to play an even larger role in deploying and expanding NGN worldwide. Network transport has been the heart of our global efforts to date. Now we're making a major move into the domain of service platforms.

Smart carriers select their NGN suppliers according to multiple criteria. Product function and price are important. Equally essential are long-term strategy, comprehensive capabilities, service & support, continuing commitment. financial stability and Corporate Social Responsibility (CSR). NEC goes from strength to strength in all these critical areas.

NGN will have a positive and powerful influence on consumer lifestyles and corporate business models. Many of the individuals and enterprises who benefit most from NGN will be partnering with NEC.

Your NEXT Move in Software
Software plays a huge role in providing value-added services and enabling the functionality of today's networks, especially in the NGN domain. It will facilitate voice communications, e-commerce transactions and many other applications. Software will also work with network devices to relieve congestion, divert traffic to alternate routes, ensure reliability, promote security and enhance flexibility. NEC is known worldwide as a leader in network software, and we're poised to extend that leadership in NGN applications.

NEC is a pre-eminent supplier of service platforms for Japan's highly evolved telecommunications market. We provide domestic carriers with almost all their SIP servers for voice communications,. We're also known around the world for supply achievements that include i-mode gateway systems, Push-to-Talk systems, and Ring-Back-melody (RBM) systems. NEC has also pioneered network equipment that combines software with general-purposes server platforms. One example – the world's most advanced commercial packet nodes for mobile networks, using Advanced Telecom Computing Architecture (aTCA) servers and carrier-grade Linux.

NEC employs literally thousands of software engineers who know networks inside-out. The exceptional depth of our IT-software skills gives us a tremendous advantage in the NGN era. We're forgoing full-speed ahead in software development for every aspect of the NGN domain, from service platforms to embedded software for network equipment and devices.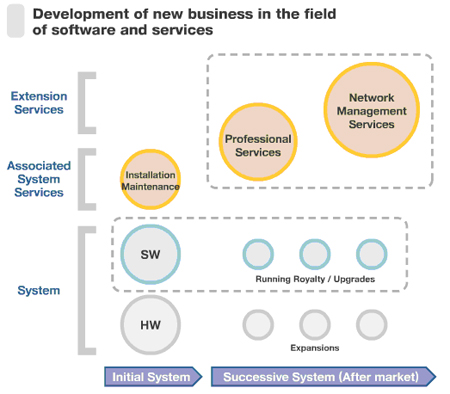 New Business in Software and Services
NEC is more than a world-class supplier of NE+GN equipment and systems. We offer a comprehensive portfolio that covers customer needs at all stages from initial consulting, through network deployment, roll-out of new services and upgrading overall network performance.

We partner with our customers in developing new software and services designed for long-term success in the NGN era. We also provide professional services in highly specialized areas such as securing area coverage and communications quality for 3G mobile networks over which many users share a single frequency.

From network design, to equipment installation, service-quality monitoring and equipment fine-tuning, NEC offers the convenience of single-source support from a world leader in NGN. We're responding to carrier demands for improved cost efficiencies in network construction and operation by constantly expanding and strengthening our comprehensive menu of services.
Solution – IMS Service Platform for Creating Value-Added Services
The NGN is composed of security/ QoS management functions and service delivery functions centered on the IMS platform. These together form the service platform for the NGN and are positioned as the core functions of NGN services.

In the case of IMS products, we started commercialization very early on and improved the reliability, availability and scalability of the products by utilizing the past achievements of SIP servers for fixed networks. Pursuing compliance with standard specifications such as 3GPP/3GPP2. we verified interconnections through trials with Multiple carriers and eventually succeeded in commercializing them as IMS platform infrastructures.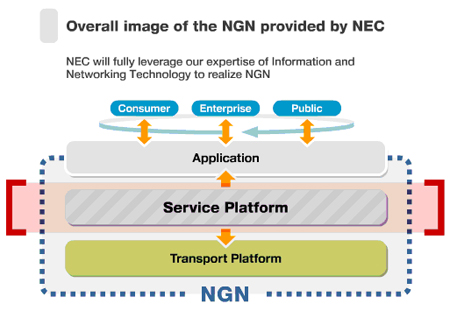 Furthermore. we are developing and commercializing next-generation SIP servers as IMS platform products cored on next-generation networks. These products feature the following.
Implementation of highly reliable Carrier Grade Extension
Interface and Hardware Compatibility with Standardization such as the NGN standard of ITU-T/ TISPAN as well as with the IMS/MA4U (Multi Media Domain) standards of 3GPP/3GPP2.
Fixed Mobile Convergence (FMC) compatibility enables service enhancement based on a close convergence of fixed and mobile networks
---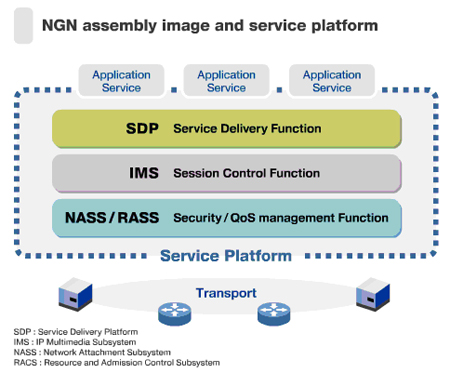 In the future, we will continue to contribute to the creation of new communication modes for users and expansion of businesses for communication carriers by providing optimum NGN environments centered on next generation SIP servers. as well as provide service solutions that are available on the NGN.

For communications carriers and service providers. finding a way in which to create. develop and introduce outstanding and innovative services efficiently and quickly to the NGN has become an important topic. It is the SUP that serves as the response to these needs for the development and delivery of new services. which is why it is attracting attention as a foundation for achieving various functions ranging from the development of services to their introduction, maintenance/administration, and accounting and user management.

Under these circumstances. NEC regards an SOP that pays attention to SIP adopted as a core technology of the NGN as the SIP-SUP. and is currently commercializing practical SIP application servers using it. The SIP-SUP has the following features.
Quick Service Development/Introduction
User-friendly programming APIs and communication APIs such as Java, .NET, XML. HT1P or SOAP are used as open APIs to further increase the development speed of new services.
Simple Programming
Complicated SIP referred to as control procedures are hidden so that SIP interface verification and communication testing, which have up until now been necessary each time a service has been developed. are no longer required.
Flexible System Configuration
Application servers that provide and control services individually are offered at a level higher than that of commonly used SIP application servers (Call Control, Presence. Media Control, etc.). [his simplifies the addition of services and enables configuration of the system according to the type and scale of service.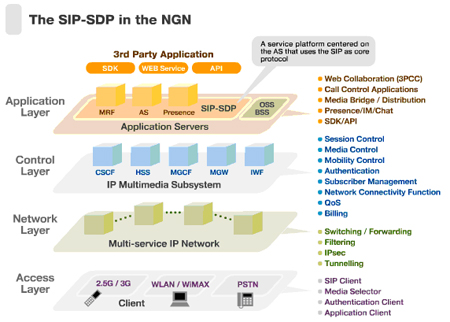 In the future, we will construct various NGN services on these service platforms and position them among our core business operations.
Solution - Optical Access System Enabling High-Quality And High-Speed Data Communications
The means of broadband connections to communication carriers and service providers is shifting from metallic access using telephone lines to optical access using optical fibers featuring high-speed data communication capability. In addition, demand is on the rise for a triple-play system in which a single broadband connection simultaneously provides telephone, broadcasting and Internet services.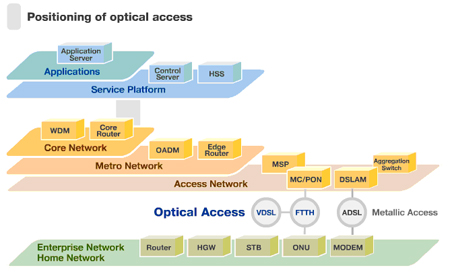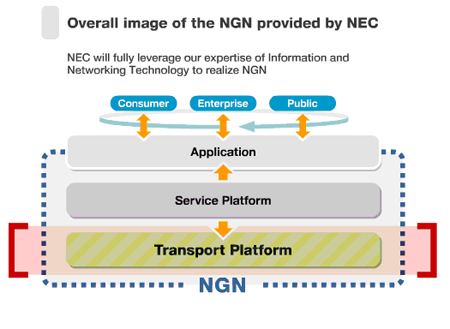 An optical access system is composed of an Optical Line Terminator (OL f) installed by the communications carrier or service provider and the Optical Network Unit (ONU) installed in the office or household of the subscriber. Optical access can make the uplink and downlink transmission speeds symmetrical as well as achieve long-distance, high-quality ultrahigh-speed data transmission that is less dependent on line conditions as compared to metallic access.

The optical access method includes the Single Star (SS) and Passive Optical Network (PON) technologies, and the latter is currently being used more predominantly. Research on PON technology began in the eighties. and commercialization of Gigabit-PON (G-POM will begin after ATM-PON (APON) and Broadband PON (B-PON). In Japan, commercialization of Gigabit Ethernet-PON (G6PON) is already underway.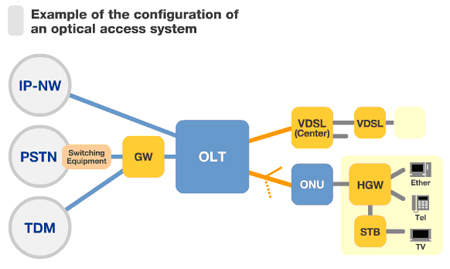 At NEC, we are developing products based on technology acquired as a result of our past experience in PON technology development which in turn enables us to provide solutions for both GE-PON and G-PON.

In addition to their compliance with the IEEE standard, our GE-PON products also have the following features:
over 20-km optical transmission using an optical module with 29dB dynamic range capability:
support of max. 512 ONUs with a single OLT, and:
provision of multiple user authentication methods including 802.1x.
NEC will continue the promotion of R&D into advanced technological solutions in the held of optical access and make positive proposals for the promotion of highly reliable systems that allow us to deal flexibly with the services and applications of the next generation.
Rising to the NEXT Challenge
Message : by Botaro Hirosaki, Executive Vice President
The Age of NGN is rapidly approaching. It will be an exciting era. integrating diverse services and applications over high-reliability, ultra-high bandwidth IP networks.

The deployment of Next Generation Networks (NGN) is gathering global momentum. Since 2004, major global carriers have announced ambitious NGN plans in swift succession. Japan's leading carriers such as NTT, KUUI and Softbank have both unveiled their NGN roadmaps for seamless integration of fixed and mobile communications.

To ensure the high-level of security and reliability demanded by a system that serves as both personal lifeline and business infrastructure. the networks that have been built and refined over the past century will have to undergo dramatic transformation.

The full-scale deployment of NGN will have an incredible impact on society. A myriad of new services will become possible, including voice/video communications with outstanding presence. online streaming of multimedia content. and electronic commerce with added security. comfort and economy.

All these services will be available to users without regard to location or network environment. The Ubiquitous Network Society will enable information exchange over networks 'anytime. anywhere. in any medium and to any person. This is not a dream for the distant future. It is a reality that is just around the corner.

The continued evolution and integration of optical telecommunications. wireless communications, IP networks. and broadcast technologies is indispensable for the realization of NGN. Software will play an increasingly vital role in managing NGN services and network functions. The benefits that will be enjoyed by end-users and carriers include delivering telephone-call quality and reliability over IP networks, ensuring security and using software to enable flexible network response to subscription changes and traffic fluctuations.

NEC offers world-class know-how and resources in the core technologies for optical, wireless. IP and broadcasting networks. We also excel in the full range of other technologies and skills necessary to realize the potential of NGN. From integration and optimization of the overall network, to development of large-scale. high-reliability, carrier-class software. to innovation in device-embedded software and semiconductor/device technologies. NEC is perfectly position to lead the industry into the NGN era.

Our network products cover everything from access to backbone, from fixed to mobile networks. from SIP servers to media servers. and from billing systems and to complete business management solutions. NEC supports you in optimizing your networks by leveraging its multi-dimensional strengths, experience and ability to innovate in IT and network technologies, fixed and mobile network integration, and network migration.