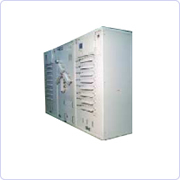 Innovated technologies are deployed in this product
Wideband design covers entire UHF band
Unlike most transmitters, which are built to frequency, our frequency-agile design means that no channel-specific components are necessary. All DTU-51 transmitters are produced from, and supported by, one common set of modules, resulting in reduced costs from purchase to installation and support
The DTU-51 also features an N+1 common standby system configuration that is free of channel-specific components.
Optimized overall performance
The DTU-51 features a high-efficiency broadband solid-state power amplifier (PA) employing field proven LDMOS (Lateral Diffused Metal Oxide Semiconductor) output devices, with an integrated power supply and cooling system.
The compact PA modules each incorporate an RS-485 interface, enabling comprehensive monitoring and remote control. Furthermore, self-protection circuits for high temperature, reflected power, overvoltage, overcurrent and low AC voltage are built-in.
The DTU-51's exciter features a newly developed digital linear corrector and a low-phase-noise local oscillator. When the exciter works in conjunction with RF PAs, high transmitter performance with minimized deterioration in carrier-to-noise ratio becomes possible. And the low-phase-noise, frequency-synthesized Local Oscillator, all-band-up conversion and a Digital Processing Corrector are all integrated into a super-compact chassis measuring just one rack unit in height.
---
Cost-efficient and Space-efficient Design
Among the many factors that must be considered when first installing a DTV transmitter or adding one to an existing system are floor space and cooling system requirements. The DTU-51's space-efficient design and low-volume liquid cooling system help reduce the requirements to an 800mm/31"-wide rack, enabling one of the smallest footprints in the world.
Latest technologies in digital broadcasting
Optimized combination of wideband matching circuits and controls, common spare
units, N+1 systems of Power Amplifier (PA). Each TRPA incorporates a single switching power supply, for redundancy and increased dependability. The design adheres to strict guidelines regarding emission of radiation (e.g. EMI)
The digital exicter, DM-3000A, integrates numerous functions into a single unit that greatly reduces size and cost. DM-3000A is capable to work in conjunction with other NEC transmitters as a signal processor — this greatly reduces the necessity for spare units while simplifying maintenance. The ADC board (optional) generates correction factors of non-linearity distortion and updates the correction table without interrupting program service. The ADC board is installable from the front of exicter
Monitoring, control and maintenance
The easy-to-view color LCD screen located on the front of the rack features an intuitive GUI (Graphical User Interface), making transmitter control, monitoring and maintenance extremely easy to perform
Leading edge cooling methods

Air Cooling
NEC's vast experience in this area enables numerous improvements, such as in the intake/exhaust air duct structural design to reduce unbalanced cooling of PAs, and fortified cooling fan capabilities.
Liquid Cooling
The liquid cooling system incorporates an automatic air-purge function, and an Adaptive Fault Forecast function. Hybrid closed circuit simplifies coolant feeding and dust removal, thus ensuring the coolant remains clean.