Public Safety
Smarter Airports
Digital Identity- Banking and Financial Services
Case Studies
In the midst of what is termed the Fourth Industrial Revolution, the world has seen unprecedented advances that have come together to impact everyday life like never before. The convergence of cloud computing, artificial intelligence, the Internet of Things and many related innovations in the past five years has brought about profound change and disruption to countries, industries and the people who are part of them.

Accelerating urban development is necessitating an urgent response to address multiple forms of threats proactively and identifying technologies with proven track record in leading safe city solutions.

NEC displays extensive capabilities in advanced technologies and solutions that are aligned with the challenges faced by organizations. Its leadership in biometrics, video analytics, and big data analytics are incorporated into diverse vertical-focused solutions addressing security challenges under different scenarios. With years of experience in security solutions, NEC remains committed to its "Safer City" vision with solutions that bring about a win-win outcome for all stakeholders.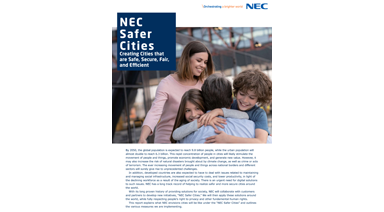 NEC Safer Cities Creating Cities that are Safe,
Secure, Efficient, and Equal

Download
Ranked # 1 for Automated Fingerprint Identification Systems (AFIS), Face Recognition and Iris Recognition

NEC's state-of-the-art biometrics algorithms have been validated by the U.S. National Institute of Standards and Technology (NIST) in a comprehensive range of tests from small one-to-one verification to large-scale high-volume identification matching.
Frost & Sullivan's 2017 Asia Pacific Integrated Biometrics Solutions for Public Safety Leadership Award

Awarded for NEC's leading multimodal biometrics solutions (i.e. NeoFace® Watch Facial Recognition Suite etc.), largely deployed within Asia Pacific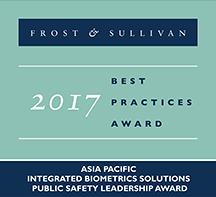 Bio-IDiom and the Hachioji Model: "Sustainable Healthcare Ecosystem" wins 2019's iF DESIGN AWARD

NEC's Bio-IDiom was awarded as a multimodal biometric authentication solution for designing secure, safe, efficient and equal services in this globally recognized award for design.
Our Field-Tested Expertise
From major metropolitan areas to rural communities, millions of citizens around the world are protected by our solutions everyday.
NEC Solutions are being used in more than 700 systems
in over 70 countries and regions around the world.