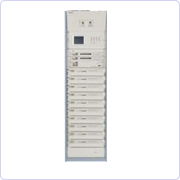 DTU-52 Series
High-Power Digital TV Transmitter

NEC transmitter equipment is renowned for High Reliability and Low Maintenance throughout the global broadcast community. The DTU-52 Series inherits the technological and performance advantages of the previous DTU-51 Series, which through many years of field operation, has been highly praised by our customers, and has successfully achieved two additional advantages; high efficiency and small footprint.

Features

Enhanced Efficiency
With the new PA, the DTU-52 Series enables a reduction in power compumption by an average of 20 to 30% compared to the previous model.

Small Footprint
The DTU-52 Series provides up to 8.7kW output power (average) by using 10 sets of PA units in a single rack, achieving a footprint of only 590 (W) x 2,000 (H) x 1,000 (D) mm, making it one of the smallest transmitter foot-prints in the world.

Advanced cooling system
With the adoption of Hybrid Closed System for cooling, there is the advantage of excellent cooling liquid exchangeability and automatic removal of air from the system when an amplifier is changed.

Compliant to a variety of digital terrestrial broadcasting standards
The DTU-52 Series is able to support a wide range of global digital standards including ATSC, DVB-T/H, ISDB-Tb, and the latest established standard - DVB-T2.

User friendly monitoring and control
Control and monitoring of the equipment is carried out via the colour LCD on the front of the rack which features an intuitive Graphic User Interface for easy maintainability.
As an example, it is possibile to monitor IM and MER without the use of measuring equipment.

Wide range of redundancy configuration
To meet customer's ever increasing demands, the DTU-52 Series can offer wide range of backup options: from redundancy only in the liquid cooling system to N+1 configurations.

Wide band design
The DTU-52 Series is designed to be frequency-agile, covering the entire UHF band and thus, no channel-specific components are required.

Reduced maintenance costs
All DTU-52 Series transmitters are produced from, and supported by, one common set of modules, resulting in reduced costs from purchase to installation and suppport.
Functionality Benefits

Adaptive Digital Corrector (ADC)

The ADC automatically generates correction factors of non-linearity distortion and updates the correction table without interrupting program service. Optimum signal quality and service coverage are maintained, protected from the effects of ambient temperature, aging and other factors. The ADC comes integrated in the DM-3000 Series Digital Exciters and can be used to generate the correction factor for preset correction. Furthermore, the ADC is capable of analyzing feedback signals from the TX output, including inter-modulation level, MER value and other graphical data. Automatic adjustment of the IMP/MER values greatly reduces the time required for maintenance.

N+1 System

The DTU-52 Series frequency-agile design, allows for the construction of an N+1 system, offering redundancy for maximized reliability and transmission time. By using the latest N+1 controller, up to 8+1 system are available.
At any given time, there is a transmitter ready to be activated should one of the active transmitters malfunction. When activated, the spare transmitter adjusts its frequency band accordingly without interfering with broadcast signals.

Liquid Cooling

The liquid cooling system incorporates an automatic air-purge function and an Adaptive Fault Forecast function. These features work together to cut noise and installation costs, making the maintenance easier and boosting reliability. Coolant feeding and dust removal have been greatly simplified by a hybrid closed circuit, ensuring the coolant remains clean. There are two types of cooling systems that can be selected from the transmitter models.

Local Control/Monitoring

The easy-to-view colour LCD screen located on the front of the rack features an intuitive GUI (Graphical User Interface), making transmitter control, monitoring and maintenance extremely easy to perform. The log data not only displays changes in operational status, including faults, but also enables verification of related data in case of system failure, thereby streamlining analysis of abnormal status. Frequency settings can be conducted at the touch of a button on the colour LCD screen.

Remote Control/Monitoring
The DTU-52 Series incorporates a web server and SNMP agent, enabling the transmitter to be connected to a local area network for monitoring and control of transmitter operations via a remote PC with a web browser. Whilst also allowing a SNMP manager to monitor and control from a different location at the same time. Thus, provide a cost-efficient maintenance, whilst the transmitter is in operation and without the requirement of expensive measurement equipment.