The Best Partner in SAP Implementation
PT. NEC Indonesia is a registered SAP Channel Partner. Combined with NEC's Hardwares, we provide an end-to-end solution from SAP software to NEC server.

Our customers vary from different type of industry. Our experience in different types of industry makes us the right choice for SAP implementation partner.

We also have many solutions which already implemented in various customers locally and globally, some of them are: HRMS (solution for HR and payroll), EZ Runner (solution for discreet manufacturing), Flexprocess (solution for process manufacturing), and Hospital. These solutions can be implemented to support main SAP Business One solution and of course all of these are integrated.



About SAP

With 12 million users, 100,600 installations, and more than 1,500 partners, SAP is the world's largest inter-enterprise software company and the world's third-largest independent software provider overall. SAP has over 30 years of experience in developing solutions for large and small organizations in more than 25 industries across the globe. Nearly half of SAP® software installations worldwide are for small and midsize enterprises.



SAP® Business One

The SAP® Business One application is an affordable, integrated business management solution designed specifically for small and midsize enterprises. For the first time, business owners have a single system that was built to automate business processes and delivers a true and unified picture of critical, up-to-the-minute business information across customer relationship management, manufacturing, and finance. With SAP Business One, owners can increase the profitability of their business and achieve a new level of control.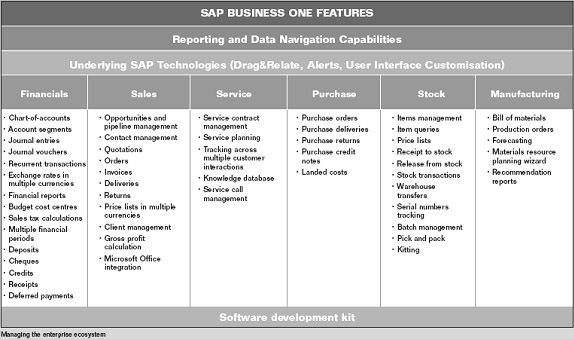 SAP BusinessOne Features