NECARE Center provides support and maintenance services for the full range of NEC products and solutions throughout Indonesia. The provision of this service is governed by NEC's corporate management commitment to "Giving top priority to customer satisfaction through relentless efforts to provide better products and services"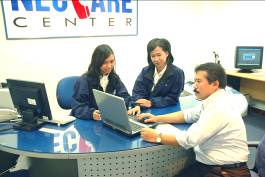 Our Value Proposition


High Quality Support Services (Reduce business disruptions)
Simplified Interaction / Administration (Single point of contact and accountability)
Fair Business Partner
Dynamic and Vibrant (Continuous improvement, new technology)
Service Performance (SLA)
Consistency
Flexible Service levels (Multiple service offerings)
Our Philosophy

Service, above all else is about PEOPLE. NECARE Center personnel are highly trained in their respective fields. Just as important is their attitude and approach to customer service. Customer orientation, pro-active thinking and quality are virtues integral to the service culture.
The PHILOSOPHY practiced is one where NECARE Center will continue to be dynamic and vibrant, embracing new methods and technology to further uplift the level of service provided to our customers. All the while, we will continue to be customer focused.
The well defined PROCESS with NEC's standardization used at NECARE Center is to deliver a consistent and high quality services to customers. In addition, built into the process is a continuous learning and improvement.



Simplified Interaction

NECARE Center Helpdesk provides a single point of contact to the customer for all NEC products and services thus simplifying the communication, processing, administration and control of support requests.
NECARE Center also serves as central point of accountability. Helpdesk consultant's acts as customer's representatives, taking ownership of support request through to resolution. This frees up customer's staff to concentrate on core business activities.



Customer Satisfaction is our mainstream

NEC applies corporate culture to all employees so that we can think and act quickly with customer's interest in mind to produce products and services that values customer's satisfaction for all business areas.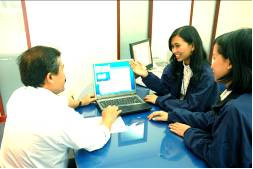 Offered Services

Product services
Handled by our NEC Certified Engineer, we assure best reparation of your NEC Products such as PC, Laptop, Server, LCD, Plasma, and Projector.

Project Management
Management of ICT (Information and Communication Technology) projects for Customers on a turnkey basis

Hardware Maintenance
High quality, flexible, and multi-tiered maintenance support of NEC Products.

Installation Services
Turnkey installation management and supply

Network Support
Planning, implementation, maintenance and upgrading of networks system

Training
Tailored training programs for NEC Solutions, Products, Networks, Operating System, etc.

Software Maintenance
High quality, flexible, and multi-tiered maintenance support of NEC Solutions.
Location

NECare Center is available to serve you in certain area in Jabodetabek.