GFLAIDS (Global Flight and Airport Information System) / FIDS (Flight Information Display System)
Global Flight and Airport Information Display System is application software developed by NEC for Flight Information Display Systems (FIDS). It runs on a standard OS and multi-purpose equipment like a Windows server.

Information displays guide passengers from the entrance of the departure airport to the exit of the arrival airport.
When you arrive at an airport, you may first see the main departure board and then find the check-in counter.
Next, you'll check the gate information and boarding gate board. And you may see updated departure information before you are on board.

After arriving at the airport for a transfer or the final destination, the gate and baggage conveyor boards help you get to the right place.

If someone picks you up at the arrival airport, he or she should check the arrival board to confirm the arrival time and your exit number.

There are two essential requirements for a FIDS:
Provide accurate and clear information for users (administrators, airport staff, passengers, and those who send off and pick up passengers).
Provide high reliability to ensure non-stop operation 24/7.
A FIDS with GFLAIDS satisfies these two requirements with high scalability, flexibility, and reliability.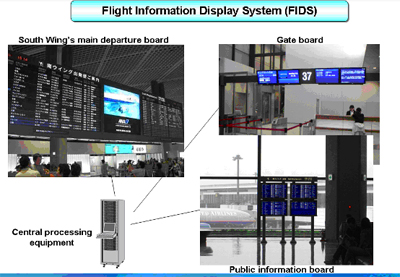 Many Types of Multi-Purpose Display Devices Are Applicable
Flexible and Eye-Catching Displays of Information by Using the Latest Multi-Purpose Display Devices
Various contents for REMARKS
Running characters into tickers across the bottom of a display
Fail-soft function to continue operation if there are any problems in the display
Advertisement on a display
Flight information on the web
Emergency message notification
Easy Operation from Airline Console
Low Operating Cost (Addition of Airline, Destination, etc)
Low Operating Cost (Less Power Consumption)
High Visibility (with a Universal Design approach)
---
With GFLAIDS, the FIDS gets :
HIGH SCALABILITY for an airport of any size - Cost-effective and designed with the best match
HIGH FLEXIBILITY of maintenance and expansion - Easy construction, operation, and administration at low cost
HIGH RELIABILITY with self-developed hardware and application software - Synergetic and speedy implementation and support service
---
Stand Management System
Display of time table for public transportation.
Operation information (Accident / delay information etc)
Linkage with mission critical system
Advertisement display
One-to-many hub
The number of equipment will be large
The setting of in-car display
---
Intelligent Surveillance System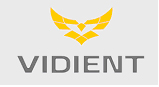 Intelligent Video Surveillance


Vidient's SmartCatch ®
Video Analytics to auto detect 'events of interests'
12 Behaviors to promote situational awareness:
Integrates with other Security Systems like Radar, Tracking Systems, CCTV, etc
Vidient's SmartCatch ®, the most comprehensive, accurate and advance intelligent surveillance software with its true behavior recognition can detect suspicious behaviors, real-time alert for effective response.

Available Behavior Recognition Modules :
Crowd Detection
Exit Lane
Human Tailgating
Loitering
Perimeter Intrusion
Removed Objects
Stopped Vehicle
Turnstile Violation
Unattended Objects
Vehicle Tailgating
Human Counting
PTZ Object Tracking
Access Control
Face recognition
Finger prints identification
Iris recognition
Hand Vein recognition
---
Airport Commercial Digital Signage
NEC provides digital signage for variety usages:
Floor information
Goods information
Effective information display of limited offer
Advertisement display of suppliers
Multi-store system or single store
Reluctant to invest in facilities because of depression in this industry
Penetration of IT is later than we expects
The establishment of LAN and display is problem
---