Fleet Management System /Passenger Information System
Citybus & New World First Bus Services


Intelligent Bus Service for Urban Customer Satisfaction
NEC offers range of options for enhancing scheduling, on-board services and fleet management of buses
NEC is committed to helping bus and other public transport operators to enhance processes and improve customer service. For example, in Hong Kong, NEC has worked with Citybus Limited & New World First Bus Services Limited (Citybus & NWFB) since 2007 on a comprehensive Fleet Management System. As of now, NEC has developed a system for the management of around 1,700 buses, interfacing with an automatic fare collection system and automatic bus stop announcements (ABSA). With this new system, bus captains only need to log in to this NEC system before their initial departure from the terminal/depot. With the fare collection system being integrated with the bus stop announcements, bus captains are freed from any additional manual operations, and are therefore able to focus on providing the safest and most comfortable journey possible.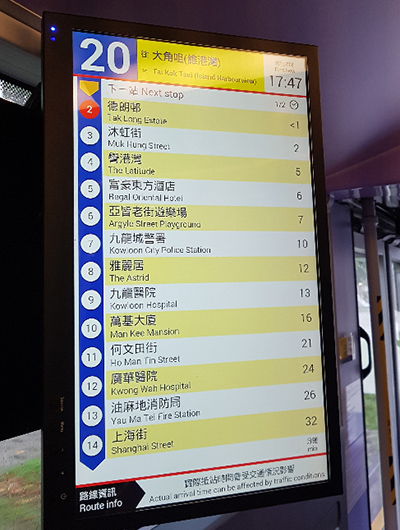 Additionally, while riding a bus can be intimidating for those unfamiliar with the route, especially if they are from abroad, the ABSA system provides passengers with information about the upcoming stop via English and Chinese texts on LED displays, and audio announcements in English, Cantonese and Mandarin. The LED and LCD displays on the bus show the name of the next stop until the bus arrives there, at which point it automatically changes to the subsequent stop based on GPS information. The LCD also shows the arrival time information for the bus-stop being displayed.

From an operational standpoint, the second-by-second data of each bus are automatically logged, and these data are uploaded to bus companies' backend servers using the on-board Wi-Fi or on-board 3G/4G mode. Furthermore, if there are any updates to the broadcasting content or on-board software, they can be downloaded easily as well either over the air (OTA) or by depot Wi-Fi. This lightens the load on operators allowing them to concentrate on enhancing operations in other areas.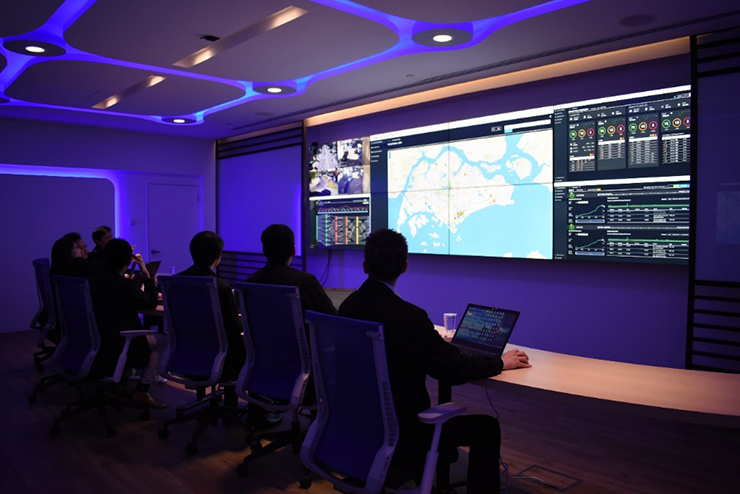 NEC has continuously improved its smart transport technologies through research and development. Recently, NEC Laboratories Singapore and NEC Laboratories Europe have embarked in a joint effort to develop new and improved ways to help public transportation operators.

One common issue faced by passengers is inaccurate bus arrival information. This is particularly true in the case of high-frequency bus operations in metropolitan areas like Singapore and Hong Kong. NEC has developed an AI-based method for predicting bus arrival times. Learning from historical data, this method is capable of accurately predicting arrival times even during peak hours when operators experience high passenger volume and traffic congestion.

Another common and painful issue is the bus bunching phenomenon, which is often the most frequent source of passenger complaints. Ever-changing road network conditions and situations make it hard to deliver reliable service. To combat this problem, NEC has developed a Smart Command Centre that combines the predictive analysis of arrival times with fast schedule optimization techniques. Whenever a service-impacting event occurs, the Smart Command Centre's dashboard issues an alert and suggests potential improvements. Operators are thus able to visualize the possible impact and improvement, and intervene in real time. Such rapid responses to operational issues will lead to more regular service, thereby contributing to better KPIs, for example excess wait time (EWT), for bus operators and greater customer satisfaction. The EWT metric is known to do a much better job of indicating performance than wait assessment.
Citybus Limited & New World First Bus Services Limited