Displaying present location in the site.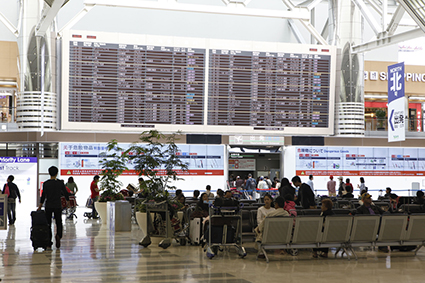 HIGHER EFFICIENCY, HIGHER SAVINGS…
Significant increase in global passenger traffic coupled with capacity constraints enhance the need for airport operators to have intelligent, real-time insights for timely allocation of resources. NEC's suite of integrated software solutions - flight information display systems, intelligent surveillance solutions and air navigation solutions are designed to provide operational efficiency with enhanced security.
MAKE AIRPORT SECURITY SAFER, MORE EFFECTIVE & HASSLE-FREE.
To tackle increasing risks posed by terror attacks and identity thefts, aviation experts across the globe are adopting stronger security measures. However, these measures are posing challenge to enrich travel experience. According to IATA's Global Passenger Survey 2017, passengers have identified airport security as one of their top two pain points. Airports are increasingly investing in smart technologies to make security processes safer, more efficient and hassle-free.
NEC's video analytics, biometrics and surveillance solutions ensure high quality ambient security. Our best-in-class behaviour detection and crowd level estimation solutions address all security pain-points. For more than 50 years, we have been delivering innovative solutions for airport operations and security.
LEARN FROM THE BEHAVIOUR.
Due to increased terror threats, situational awareness is gaining increasing importance for both national and international travel. By monitoring and analyzing traveler behavior, airports can identify suspicious travelers in real-time and conduct screening in advance.
NEC offers a highly efficient and user-friendly video analytics solution - Behavior Analyzer. It monitors passenger behavior and flags any suspicious activities such as intrusion, loitering, and object abandonment. Additionally, it can be easily integrated with existing CCTV systems and other third-party cameras. Our emphasis on maximizing monitoring functions and making the monitoring center more efficient is helping us become one of the leading providers of behavior detection solutions.
GET BETTER CROWD CONTROL
Aviation experts are working hard to serve high number of current travelers and accommodate for future growth in the passenger volume. They are looking for solutions to optimize current infrastructure while strengthening security.
NEC's crowd behaviour analysis solution offers real-time insights around crowd movement and density levels. In case of unusual crowd movements and sudden rise in crowd levels, alert is generated to warn security personnel. It empowers security operators to improve staffing efficiency and dynamically allocate resources for high priority tasks, improving checkpoint efficiency and reducing wait times.
Flight Information Display System
Boasting high usability, readability and sophistication in design, NEC's Flight Information Display System (FIDS) is a user-friendly, comprehensive solution for the display of flight-related information benefiting travelers, airline staff, and others in airports.
Providing real-time information essential for passengers, such as flight information, announcements, weather reports, and news, its advanced, wide-ranging features include system architecture built on NEC's open mission-critical system (OMCS).
Passenger Flow Management
TO ENHANCE AIRPORT SECURITY & PASSENGER SERVICES.
NEC offers a comprehensive passenger flow management solution that provides real-time insights throughout the airport journey for efficient movement of passengers. As the passenger moves through the check-points, various cameras and sensors at different locations collect the necessary data. Through our advanced ICT solutions, we can analyze this data to give operators vital knowledge about the smooth running of the airport and how to increase revenue and enhance security.
This system has been rolled out in Macau and has been deployed at four locations, including ferry terminals and border crossings.
Flight Information Display
Our comprehensive flight information display solutions enable airport authorities to constantly update passengers and staff with flight, security inspection and ticket counter related information. These displays are also helpful to display news, weather and emergency guidelines.
In order to enable both civil aviation and air defense authorities maintain air safety and accommodate future traffic growth, NEC offers an integrated Air Traffic Control System for enroute and terminal air traffic control.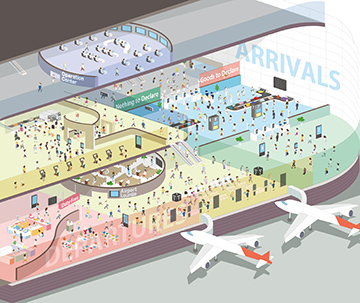 Transforming Your Air Travel
Discover how digital ID provides a seamless, secure and efficient walk-through experience to the passenger.