Displaying present location in the site.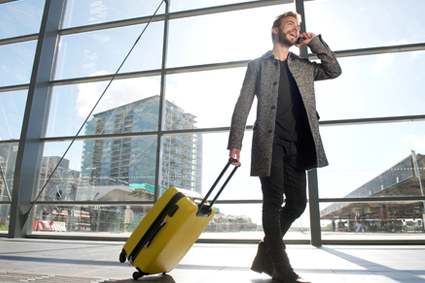 ACCELERATE THE AUTHENTICATION OF PASSENGERS.
By capturing passenger's biometric and travel information into a single digital record, travelers will be able to use this token for identification at each step of their journey.
One ID provides integrated identity management across the travel process that allows passengers to authenticate their identity online or in person for all stakeholders, ensuring an efficient flow within the airport.

Biometric technology allows a passenger's personal details to be captured through a biometric scan at the first touch point in the journey. This biometric record is checked against the passenger's travel documents and a secure single token is created. Then, at every touchpoint in the journey – whether it's during self-bag-drop, at border control or while boarding the aircraft, passengers can simply walk-through with their biometric ID.
E-Passport
MOVE TO A FUTURISTIC MODE OF TRAVELER AUTHENTICATION.
Traditional document-based methods of identification are labor-intensive and time-consuming. They are limited by the accuracy of biographic information obtained from suspects who may use aliases and other false data. These methods can be complicated as criminal history and immigration records reside in different, non-integrated systems.
Registered Travelers
SAY GOODBYE TO LONG QUEUES.
The registered traveler program is designed to facilitate smooth and frictionless passenger journey. According to IATA's Global Passenger Survey, 64% of the passengers chose biometric identification as their preferred travelling token. A traveller who opts for registered traveller program (One ID) can enrol and authenticate their identity once, he can then use this digital identity to auto-fill his information at the time of booking flights, confirm his identity at security and even pass through border control just using his smartphone.
The station-and-train-borne communication system performs several interface functions, including Train-borne Public Address, Passenger Information System, Passenger Emergency Communication, CCTV, Alarm and Status Management and backup systems.
GIVE PASSENGERS A SMOOTH TRAVEL EXPERIENCE
For many travelers, the most stressful part of catching a flight is waiting in a line at the airport for security checks. Airports are constantly facing pressure to ensure stringent security while optimizing limited airport infrastructure & space.
Seamless Travel offers more self-service options to travelers while optimizing operational costs for airports. It covers different areas of passenger journey from check-in to self-boarding. Once a traveler's identity is verified, he can use this digital identity to auto-fill his information at the time of booking flights, confirm his identity at security and even pass through border control just using his smartphone.
MAKE BORDER CONTROL PROCESSES ROBUST, ACCURATE & RELIABLE.
With rapid increase in international travel and trade, complexity of border control has increased significantly. There are increasing incidents of illegal crossings, use of counterfeit IDs / travel documents, and smuggling. Passengers have also identified border control as a major challenge hampering their travel experience. Hence, airport authorities are looking to reduce complexity and time associated with border control processes without compromising airport security.
NEC's Automated Border Control solution quickly verifies passengers and their travel details against government databases to help speed up passenger flows at border control checkpoints while improving security and resource management.
Boasting high usability, readability and sophistication in design, NEC's Flight Information Display System (FIDS) is a user-friendly, comprehensive solution for the display of flight-related information benefiting travelers, airline staff, and others in airports.
Providing real-time information essential for passengers, such as flight information, announcements, weather reports, and news, its advanced, wide-ranging features include system architecture built on NEC's open mission-critical system (OMCS).