Protecting ICT Environment from Cyber Attacks with A Comprehensive Combination of Technology, Experience and Experts
More advanced and sophisticated cyber attacks may strike at the core of your business. Can your company survive with its current measures?
Cyber attacks can cause immeasurable damages to a company. They can cause tangible damages such as stopping services; they can ruin the public's trust in a company; and they can lead to leaks of important information that may affect corporate survival. In order to prevent a worst case scenario, you must have the proper organization, the proper personnel, and make the proper investments. You must also make business decisions with every aspect of the company in mind. Do you know what you need to do?
In a society in which all manner of things are connected to the Internet and the real world and cyber world are become blended, addressing cyber security is a social requirement and a must.
NEC helps to achieve an information society that is friendly to humans and the earth by providing safe, secure, and comfortable environments in the cyber world.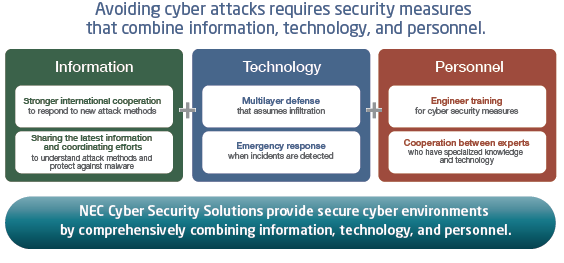 NEC is strengthening its information, technology, and personnel by working together with society to provide secure cyber space.
We share the latest information with specialized cybercrime measure organizations to reinforce security at an international level.
NEC partners with INTERPOL to strengthen worldwide security against cyber crime.
NEC joins AIS to reinforce cyber intelligence.
Japan Cybercrime Control Center collaboration ( JC3*) links industrial, academic and public sectors.
We look IoT era ahead and promote a secure development and operations.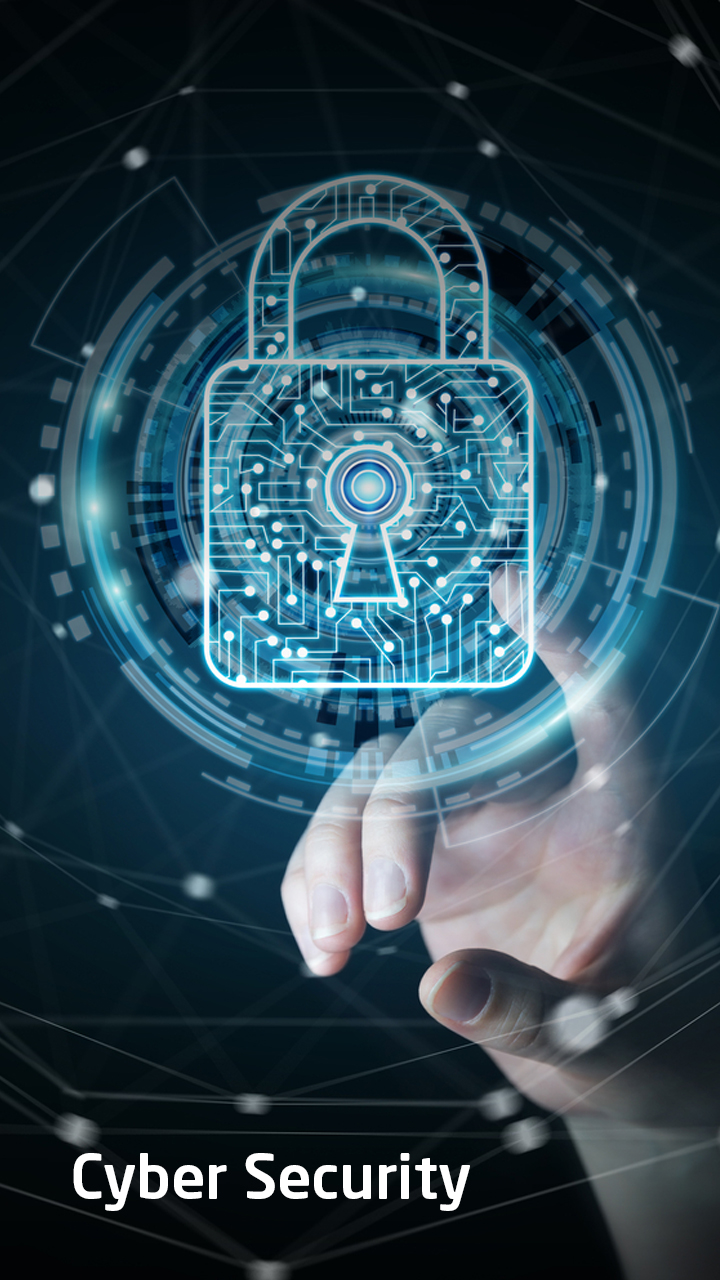 As a comprehensive information and communications technology (ICT) vendor, NEC has developed a broad portfolio of hardware and software products. We also have an extensive lineup of solution offerings for many different businesses that are based on our experience and know-how in constructing systems, networks, and providing operations support. It is because we understand the work styles of our customers and have been constructing ICT environments for many years that we can succeed in reducing security risks.
In the various development and operations phases, NEC has established development and operations implementation standards to prevent the leakage and falsification of information for systems, products, and services, including social infrastructure. NEC assures security quality by constantly updating its measures for new cyber attacks that occur daily, while also considering international security standards, standards set by the government, and industry guidelines. For the era of IoT, NEC will provide a safe and secure ICT environment based on our long-established "Security by Design" concept whereby we introduce security measures from the design phase.
NEC is working with government agencies, local governments, and academic institutions to develop security personnel and implement training courses.
Working with the Singapore government to train cyber security professionals.
NEC has established a JAIST endowed lecture series to train cyber security engineers.
Cooperating with the MIC's practical exercise to defend against cyber attacks
Providing cyber attack defense training for ASEAN countries to develop security personnel.
NEC uses its system-reinforcing and technology development expertise to create standard solutions to counter increasingly sophisticated cyber attacks, and security measures tailored for entire organizations and systems.
NEC provides total solutions to suit entire organizations and systems by focusing on five areas.
1. Consulting
to visualize risks by diagnosing vulnerabilities, propose improvements, and help customers create security policies tailored to their needs
2. Integrated control and governance
through which companywide control is implemented and security levels are maintained and improved
3. Platforms
that are the base for realizing the created security policies
4. External attack measures
which cover the operations and monitoring of systems for protecting against cyber attacks such as targeted attacks and DDoS attacks on web systems, as well as incident response
5. Internal fraud measures
to prevent the leakage of information, whetherdeliberate or unintentional.
NEC also provides security for its customers by reducing the risks unique to various businesses through its "Business-specific Solutions" that include everything from consulting to operations based on our rich experience and system construction know-how.
Futureproof Security. Beyond the frontlines of cyber security. See where NEC is going in the future.
NEC will continue to boost the security of social infrastructure with advanced cyber security measures that combine our experience and record of building systems for many customers with our extensive information, technology, and personnel.
The NEC Group has a network system that links 180,000 client PCs and servers. To maintain the safety of this enormous ICT environment, NEC has combined and utilized its original security technologies and solutions. Based on the technologies and know-how proven in our own systems, we are developing and providing solutions that will protect companies and our social infrastructure. NEC offered the first commercially viable Quarantine Network System in Japan to detect and isolate unauthorized client PCs on a network. In addition, NEC was one of the first companies to propose and implement "Count management," a technology used to quantify and visualize security threats and vulnerabilities. NEC is currently developing cutting-edge technologies that leverage SDN and artificial intelligence (AI). As a leading company in delivering innovative cyber security solutions that create new value, we will never stop providing security and safety to our customers.