Automated Vehicle Location


NEC's Automatic Vehicle Locating system is built to gather real time information of the buses travelling on the route. Based on this data gathered, information to passengers is passed on through displays at stops, inside the buses as well as through websites and mobile applications. The collected data helps public transport operators with effective information for fleet planning, performance measurement, monitoring fleet location and delivering new and improved services.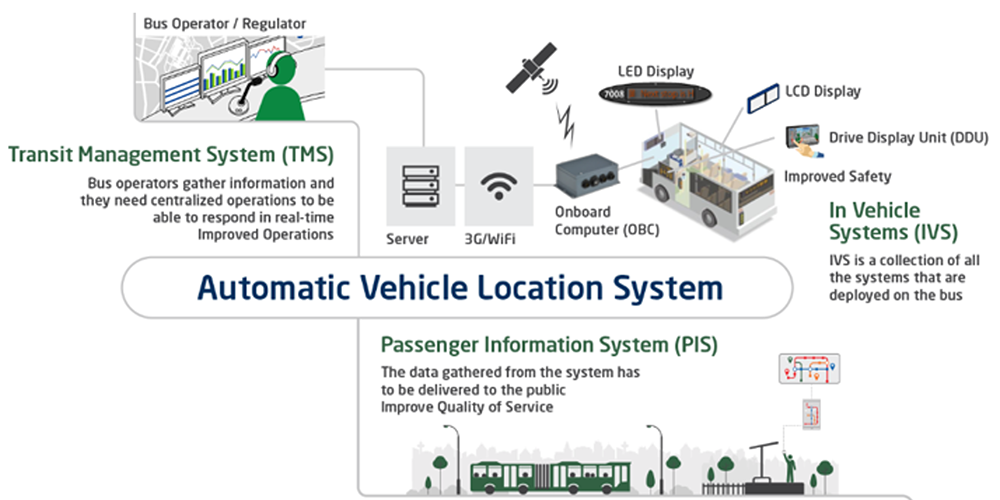 Nowadays, in order to increase productivity and efficiency for transportation operator, tracking real-time system is a must-have feature. What if you can avoid traffic accident and estimated vehicle time of arrival in every station while at the same time your management can also measure vehicle performance trend to improve the operations and set routine schedule for preventive vehicle maintenance from performance operation improvement?

NEC AVL system is a solution that provides operation management functions based on vehicle location information. It covers operation functions such as:
Location of the vehicles;
Driving status – over speeding, harsh braking, sharp cornering, off-route;
Route status – Bunching / Gapping;
Estimated time of arrival;
Vehicle status – Device status, ignition status;
Also, it can help to measure vehicle performances trend such as:
Schedule adherence;
Travel times;
Headways;
Excess waiting time;
Dwell times;
Passenger wait times;
Passenger travel times;
Bus loading;
NEC's innovative transportation and solutions will optimize bus service schedules and the allocation of crews and buses based on the real-time information obtained from the Automated Vehicle Location System.