In the midst of what is termed the Fourth Industrial Revolution, safety and security are essential to ensure the effectiveness of productivity in manufacturing plants. NEC's biometric face recognition technology is used worldwide for fighting crime, preventing fraud, securing public safety, and improving customer experience across a vast range of locations and industries.
NEC uses its system-reinforcing and technology development expertise to create standard solutions to enhance security measures tailored for entire organizations and systems and provides total solutions by focusing on five areas below:
Consulting to visualize risks by diagnosing vulnerabilities, propose improvements, and help customers create security policies tailored to their needs;

Integrated control and governance through which companywide control is implemented and security levels are maintained and improved;

Platforms that are the base for realizing the created security policies;

Internal fraud measures to prevent the leakage of information, whether deliberate or unintentional.
NEC also provides security for its customers by reducing the risks unique to various businesses through its "Business-specific Solutions" that include everything from consulting to operations based on our rich experience and system construction know-how.
NeoFace KAOATO Face Recognition
Visitor Detection System
NEC NeoFace KAOATO Visitor Detection System captures visit of "specific person" based on "Face" image captured by camera set at each location of the facility and it automatically reports to staff. It is easy to setup the system to provide services matching to the individual needs by capturing customer's visit immediately.

You can keep not only text but also images as logs to recognize "when, where, who entered (visited) the shops". Also, you can check the images in the log lists, and register specific persons at ease.

It can be also applied for ...
Measurements against specific people in a plant facility
Securing safety in warehouse and plant
Searching for employees/guests in a large scaled commercial facility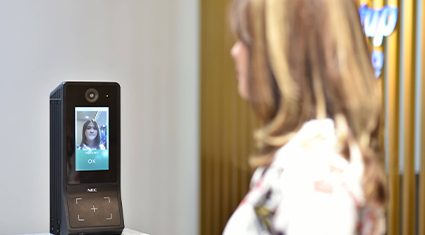 NeoFace KAOATO Face Recognition
Access Control System
Automatic verification with a pre-registered image and an image captured by a surveillance camera with high accuracy and speed. Facial recognition solution with the World's No.1 facial recognition engine.

Users' faces are recognized from captured images by cameras placed at entrances of buildings or rooms of companies, schools, hospitals, research centers, etc. The non-contact authentication makes hygienic operation possible for measures including infection control. This records attendance trail and enables to easily setup useful system for prevention and suppression of tailgating.
It can be also applied for ...
Identity checking services on-site
User identity checking services for shared services
Touchless & Cardless Time Attendance Management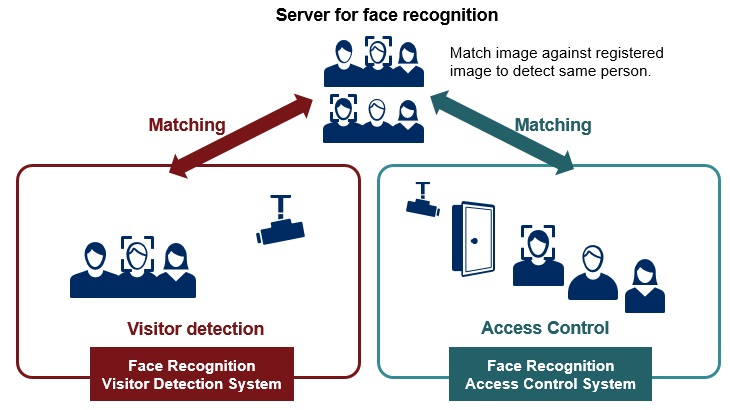 NeoFace KAOATO is an integrated solution that can be applied into any operational system, like HR system, Visitor Management System (VMS), Access Control, Machine Authorizing System, and many more. NeoFace KAOATO can also support various types of cameras regardless of the brands and can use PC as a monitoring terminal. If you wish to install such systems yet not a large-scaled change in facilities and systems, why not considering NeoFace KAOATO? Its appeal is a high compatibility to already installed monitoring systems.
Video Analytics Solutions
Security and safety are major concerns facing all organizations today. In response, millions of CCTV cameras have been installed worldwide to control access, secure perimeters and monitor for theft, damage or attack. These cameras are watched by busy security personnel with other duties to perform, recorded for later review or even completely unattended. This reactive, after-the-fact approach cannot deliver the level of effective real-time security needed today.
Available Behavior Recognition Modules
| | |
| --- | --- |
| Crowd Detection | detects crowd size and queue length to prevent overcrowding situations |
| Exit Lane | detects people going the wrong way in single direction entrance or exit lanes |
| Human Tailgating/Piggybacking | detects multiple people tailgating or piggybacking on a single access card |
| Loitering | detects people or vehicles loitering near secure or high value areas |
| Perimeter Intrusion | detects and tracks people, vehicles, or other object intrusions into secured areas |
| Removed Objects | detects the removal of stationary objects |
| Stopped Vehicle | detects vehicles stopped near sensitive areas for a prolonged period |
| Turnstile Violation | detects people hopping over or crawling under an access gate |
| Unattended Objects | detects objects such as packages, luggage, and carts that are left unattended for a specified period of time |
NEC Intelligent Video Surveillance provides the most comprehensive, accurate, and advance intelligent video surveillance software available today. With true behavior recognition capabilities, it can detect suspicious behaviors that threaten safety and security in real-time alerting the appropriate security staff for effective and efficient response.